* All jobs listed consider remote hires.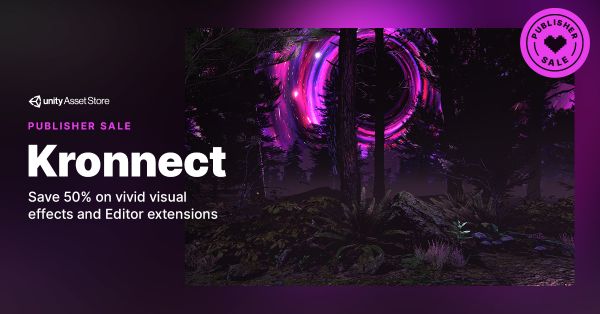 Kronnect Publisher Sale - 
We're pleased to announce a new sale featuring assets by Unity Asset Store publisher, Kronnect!

Kronnect has been developing Unity assets since 2015 and was a finalist in the Unity Awards 2020 for the Asset Store Publisher of the Year category. They strive to provide advanced assets that exceed expectations in terms of quality, functionality and support.

All assets from Kronnect will be on sale for 50% off from March 22 through March 31.

Free Asset Promotion:
In addition, the Color Studio asset will be offered for free during the sale. Use Coupon Code: KRONNECT2021
Unity
Affiliate
HUMBLE BOOK BUNDLE: GAME DEV, DESIGN & GRAPHICS BY MERCURY - 
Stop dreaming about making games and start doing it! Grab ebooks like Game Dev, Design & Graphics by Mercury, Classic Game Design With Unity 2/E, and Photograph Enhancement Videos Using Photoshop CC 2021. Plus, your purchase helps support Whale and Dolphin Conservation!
$1,180 WORTH OF AWESOME STUFF
PAY $1 OR MORE
Humble Bundle
Affiliate
Heap Explorer - 
Heap Explorer is a Memory Profiler, Debugger and Analyzer for Unity. 
pschraut
Open Source
MA_TextureAtlasser - 
Texture atlas creator tool for Unity. This tool is made to combine textures and/or remap the UV's for 3D models. The tool can also be used to make 2D sprite sheets. The visual editor gives you the ability to set and prioritize the sizes and positions in the texture atlas/sprite sheet.
maxartz15
Open Source
HiraTools - 
A bunch of tools that cut down significantly on the boilerplate you might need to write. [Includes extension methods, editor buttons, reorderable lists, coroutines, saves, tweens, and more]
herohiralal
Open Source
Editable Smooth Voxel Terrain in Unity - 
Smooth voxel terrain is terrain which can be modified in any direction (there are terrain in many games where terrain can be modified only vertically). SVT is just like terrain in one popular cubic-terrain game - Minecraft, but smoothed. 
Kewin-96
Open Source
uGameFramework by gentlymad - 
A modular, service based, multithreaded framework for Unity that keeps the code side of your project de-fragmented, organized and reuseable.
Features an optional multithreaded ECS imlementation, modular services, parallel global eventstreams, MVC, reactive state machines, serializer interface, double precision Vector2/3/Quaternion/Math, and many other things that makes your life easier.
dotmos
Open Source
HUMBLE SOFTWARE BUNDLE: BIGGEST GRAPHICS EVER - 
We bring you this unbelievable Professional Biggest Ever Graphics Bundle to help you create your next masterpiece with nearly 80,000 royalty-free assets and lifetime licenses. Get Lightroom presets, photo overlays, Photoshop actions, textures, LUTs and fonts. All LUTs are compatible with Photoshop, Photoshop Elements, Lightroom CC and Lightroom Classic and the brushes are compatible with Photoshop and Photoshop Elements. Plus, your purchase will support Save the Children and Make a Wish Foundation.
$814 WORTH OF AWESOME STUFF
PAY $1 OR MORE
Humble Bundle
Affiliate
PS1-style Assets - 
Kenney has released PS1-style game assets, 100 models (public domain)!
kenney.nl
Unity New Purchasers Sale - 
We have a new promotion starting today for new Unity purchasers! For a limited time new purchasers can save up to 90% on a selection of bestsellers and grab their first asset from just $9.99 with the code below. This promotion ends on March 31
Coupon Code: MARCHWELCOME
Unity
Affiliate
HUMBLE SOFTWARE BUNDLE: INTRO TO CODE 2021 - 
With this brand new bundle, you'll master the world's most popular languages by building real, portfolio-ready projects. From building games in popular styles - including RPGs, strategy games, idle games, and more - to web development, mobile apps, data science, and machine learning, the skills you'll learn can be expanded upon to form strong foundations for your future projects.
$1,400 WORTH OF AWESOME STUFF
PAY $1 OR MORE
[You may also like the Learn You More Code bundle from Humble as well]
Humble Bundle
Affiliate