How to lose a AAA game development job in only 3 weeks - and what those 3 weeks were like - 
My first game development job literally lasted 3 weeks. Layoffs, buyouts, and mass firings are always a risk, and this time I got unlucky, then really lucky right afterward...
Unity3d College
Getting started with Unity's new Lightweight Render Pipeline - SIGGRAPH 2019 - 
This video teaches you the benefits of using LWRP, how to set up your project for it, and how to extend it for custom rendering effects.
Unity
Creating explosive real-time visuals with the Visual Effect Graph - SIGGRAPH 2019 - 
Interested in creating filmlike effects such as fire, smoke or holograms in Unity? This video shares how to use node-based effects and adaptive features in Unity's Visual Effect Graph to create striking VFX in real-time.
Unity
Learn how to do stylized shading with Shader Graph - SIGGRAPH 2019 - 
In this video, you can learn how to write a custom lighting shader for a stylized look that can easily be shared across multiple assets.
Unity
TOP DOWN SHOOTING in Unity - 
Let's have a look at the easiest and best way to make top down shooting in Unity!
Brackeys
Make Mobile Notifications in Unity 2019! (Tutorial) - 
In this video you'll learn how to send mobile notifications on iOS and Android.
Unity
Computer Vision - Unity3d RESTful Web Service With Azure Cognitive Services OCR - 
In this video I show you how to create a Cognitive Service in Azure and then how we can incorporate it into our Unity Project.
Dilmer Valecillos
Unity - Predict player input with Aaronson Oracle part1 - setup - 
Aaronson Oracle is a simple yet pretty fun way to predict players input.
Sunny Valley Studio
Grid Shader in Unity LWRP - Shader Graph Tutorial - 
Let's make a glowing Grid Shader in shader graph using Lightweight Render pipeline in Unity.
Unity Guruz
POLYBRUSH LEVEL DESIGN in Unity 2019.3! (Tutorial) - 
Polybrush is an awesome tool that helps you with level design in Unity! In this Unity tutorial, I'm going to teach you how to use Polybrush in Unity 2019.3, and what's new in the latest version of Polybrush!
Sykoo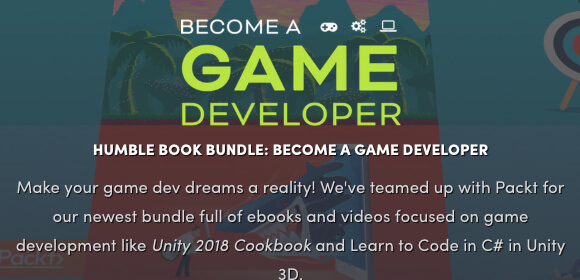 HUMBLE BOOK BUNDLE: BECOME A GAME DEVELOPER - 
Make your game dev dreams a reality! We've teamed up with Packt for our newest bundle full of ebooks and videos focused on game development like Unity 2018 Cookbook and Learn to Code in C# in Unity 3D.
Humble
MORE ASSETS
Ambient Occlusion for Lightweight Render Pipeline - 
Post-Processing Stack v2 Ambient Occlusion works on Lightweight Render Pipeline (Open Source).
Yoshihiro Shindo
Lux LWRP Essentials - 
Lux LWRP Essentials provides a growing collection of manually optimized HLSL shaders which are fully dedicated to the idea of "Lightweight": They were written with performance in mind, skipping some features you may know from other packages but still delivering great visuals.
FORST
Learn How To Design Multiplayer Games with Unity - 
Curious about the innovative tricks, techniques, and solutions that make multiplayer titles addicting? With the Building Multiplayer Games with Unity Bundle, you can take your natural curiosity about game design to the next level by learning how to craft your own multiplayer hit!
Indie Game Bundles