Unite 2023: Deepening our commitment to game development - In the Keynote, we're kicking things off with a preview of the next major, supported version of Unity – with a new name. Say "hello" to Unity 6, our next Long Term Support (LTS) release, heading your way in 2024. Unity 6 will come with major performance enhancements and accelerated multiplayer game creation, as well as early access WebGPU support and deeper XR device support.
Unity

Unity fundamentals: 6 resources to help you master the basics - Tackling the basics and turning your efforts into an amazing project is difficult. It takes hard work, time, and dedication to develop the next great creative endeavor, so we're here to help you master Unity fundamentals – no matter what you're building. Read on for six key resources designed to help you with AR, VR, and more.
Unity
 
10 Pictures That Show Why CRT TVs Are Better for Gaming - So why are CRT TVs better for gaming? There's a technical argument to be made. For example, CRT TVs offer less input lag. But there's also an argument to be made about how great classic games actually look on old school TVs, despite their low resolution. You can judge for yourself after checking out these 10 comparisons.
wackoid.com
Learn To Create Game Art In Blender Bundle - 
Your complete Blender learning kit Learn Blender with the help of the creators at GameDev.tv! This comprehensive bundle features everything you need to get started or level up your skills with the free, open-source 3D art software. Learn about animation, rigging, modeling, environmental art, and more with GameDev.tv's courses. Pick up Alpha Brush Packs and materials to help carve out details in your creations. Get a complete kit for your Blender learning journey, and help support One Tree Planted with your purchase!
Humble Bundle
Affiliate
AnimatorController-as-a-Code - A small Unity Editor Library to generate AnimatorController with C# Code.
anatawa12 Open Source

usyrup - USyrup is a dependency injection framework designed for the Unity Game Engine. It's heavily inspired by Java's Guice/Dagger DI frameworks, co-opting similar such semantics from those libraries. The core problem that USyrup attempts to address is simplicity. Many dependency injection frameworks that currently exist are both incredibly feature rich and even more so complicated. USyrup's simplicity makes DI much more approachable and actually benefit a project instead of creating dependency confusion.
Jeffan207 Open Source

asset-relations-viewer - Plugin to display dependencies between assets, files, assetgroups, etc. in a tree based view within the Unity editor.
innogames Open Source

Trove - Trove is a collection of packages for Unity DOTS.
PhilSA Open Source

Duotone - Duotone is a simple image stylization effect for Unity URP.
keijiro Open Source

CustomRayTracing - Path Tracing with Unity RayTracing Shader
Andyfanshen Open Source

EaseKit - 40 non-linear easing methods to make transitions nicer in Unity.
ryanslikesocool Open Source

DotRecast - DotRecast - a port of Recast & Detour, navigation mesh toolset for games, Unity3D, servers, C#
ikpil Open Source

FastPoints - FastPoints is a point cloud rendering plugin for Unity designed for both non-technical users and programmers.
eliasnd Open Source

Cathode-Retro - Cathode Retro is a collection of shaders that combine to emulate the properties and artifacts of a color NTSC TV signal as well as the visual look of a Cathode-Ray Tube (CRT) TV.
DeadlyRedCube Open Source
50% off JBGarraza - Publisher Sale - JBGarraza is a highly experienced 3D modeler and animator who helps video game developers bring characters to life, and shares tools for people who like to continuously improve and learn new things. PLUS, get Toon numbers for FREE with code JBGARRAZA
Unity Affiliate
 
Corel 2023 Painter And More Software Bundle - Bring your vision to life.
Get inspired and get creative with this bundle of amazing visual art software from Corel! Sketch, paint, and illustrate with the renowned Corel Painter 2023, plus a kit full of brush packs to help you create your signature style. Make every shot your best shot with the advanced photo editing of PaintShop Pro, and harness the time-saving power of AfterShot Pro.
Become a master of the digital canvas with the help of Corel, and support Children's Hospital of Eastern Ontario (CHEO) with your purchase!
Humble Bundle Affiliate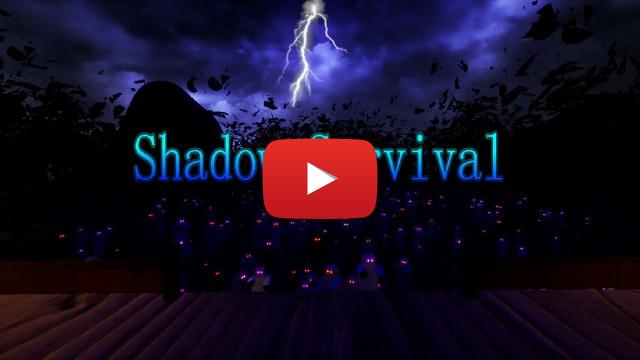 Shadow Survival - 12 player co-op demon horde blasting chaos. In Shadow Survival, players drop pod down to earth in the year 2041, in an attempt to take earth back from an overwhelming invasion. As member of a hardened faction of survivors, mercenaries, and soldiers, you and the Earth Last Stand Force are prepared to take extreme measures to save humanity from extinction, it is time for the hunter, to become the hunted.

[You can wishlist it on Steam, and follow them on Twitter]
Celestial Knight Studios

My game, Call Of Dookie. Demo available on Steam
Would You Mind Helping Us Out?
A Marrone Games project.